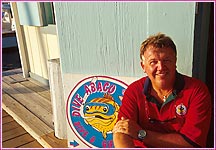 My visit to Abaco was to Marsh Harbour on the island of Great Abaco. The local magazine, Abaco Life, describes Marsh Harbour as "Abaco's largest city, a commercial hub with banks, supermarkets, dozens of shops, stores, travel agents, bakeries, restaurants, marinas and every service you'll ever need. But there are few street signs, no house numbers and only one traffic light!"

I was met at the airport by Keith Rogers, owner of Dive Abaco. Keith drove me a few minutes into town, and immediately I could see what he meant in the Dive Abaco brochure copy that reads "Marsh Harbour, although the third largest city in the Bahamas, is a small quiet community with only one traffic light! (It seems this one traffic light is a significant source of pride for Great Abaconians). Virtually everything is within walking distance! Leave your fancy duds at home — dress is casual — even in the finest restaurants". Indeed, dress was casual and the atmosphere friendly as we stopped in for a beer at the Conch Inn, just a few steps away from the Dive Abaco shop and dive boat dock. Obviously everyone in the business community knows everyone else, so with Keith making the introductions we downed a few Kaliks with a local banker and hotelier. Then, located just a few more steps across the street, I checked into a very pleasant inn called The Lofty Fig. Keith offers a few different dive/lodging packages, but this quaint villa offered the convenience of proximity, as well as the comfort of air-conditioning, television and a kitchenette perfect for wake-me-up coffee and breakfast in the morning.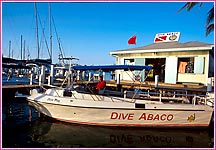 Keith is a friendly and very knowledgeable dive operator who takes extreme pride in showing his guests the best of the local dive opportunities. Dive Abaco specializes in small groups of divers, with a high level of personal attention to guided dives and instruction. The dive boats include a 28-foot Delta V-hull for no more than 10 passengers, and a 30-foot Island Hopper able to accommodate up to 16 passengers. Both boats are comfortably equipped with tank ranks, dive platforms with extended ladders, VHF radio, and diver safety considerations like DAN oxygen kits. The dive shop is conveniently situated in the Conch Inn/Moorings marina and offers a small retail area with an excellent selection of souvenir T-shirts and a modest supply of dive accessories. In addition, there is the behind-the-scenes hardware that make a dive shop successful, including a pair of Bauer air compressors (10 CFM and 19 CFM).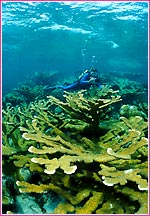 Dive Abaco specializes in referral certifications, open water certifications, and specialty instruction, but clearly the prime emphasis is on dive tours. Diving is what Keith Rogers is all about, and he obviously enjoys escorting his guests to his very favorite dive sites. He is a totally hands-on operator who offers his guests an ongoing buoyancy control workshop in a very soft, unobtrusive manner. Underwater, he is either showing off the best of the dive sites or recording the scene on high high-tech digital camcorder.
Most of the diving is relatively shallow and quite hassle-free along the world's third largest barrier reef. Much of the reef formation is massive colonies of mountainous star coral, often riddled with very impressive caverns and swim-throughs, but there are also pristine elkhorn forests and isolated hard corals of all description. The extraordinary water clarity and the fact that so much of the reef rises to within a few feet of the surface makes this an ideal destination for both scuba divers and snorkelers. Our diving was done within the protected waters of the Fowl Cay Undersea Preserve, and the first site we visited was known as the Edge. A giant stride off the swim-platform dropped us in just 20 feet of water, but a short swim to seaward and we were descending a mini-wall that dropped us to 70 feet. Here is a prime cruising ground for pelagics such as Caribbean reef sharks, eagle rays, and turtles. We saw a couple of sharks and several southern stingrays, but our best shark sighting came later this day on a site simply called Shark Dive.

Here, along a sand bottom in 50 feet of water, Keith has begun an impressive shark feed. Typically 6 to 12 Caribbean reef sharks show up, attracted to a small chumsicle (a frozen aggregate of fish heads and miscellaneous detritus from local anglers) tethered to the bottom. The divers usually kneel in a semi-circle along the bottom, but are free to swim around if they prefer. The underwater photographers and videographers especially seem to enjoy the low-key approach of this shark feed and the close access they are permitted.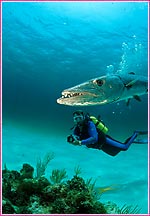 We did yet another dive this morning to a site known simply as Easy Diver. The depth was only about 18 feet, and the coral was not as dense or impressive as at some of the other sites, but there was one of the tamest, most friendly barracudas I have ever had the pleasure of photographing anywhere. I suppose he has a name, but I didn't catch it. What I did catch was the chance to shoot roll after roll of close in-my-face portraits of this remarkable critter. Obviously someone has been feeding this fish, but we didn't. And as a result, there was no silt in the water from bait yet the fish allowed extreme proximity. I was filling the frame with my full-frame fisheye lenses with a 4-foot fish from just inches away. Actually this fish is great fun. Hopefully the no hook and line rules of the Fowl Cays Undersea Preserve will allow this fascinating marine life encounter to continue.
At Wayne's World we found a particularly photogenic high profile pinnacle rising from the seafloor at 70 feet to just 15 feet below the surface. VERY impressive. Oddly, there was no tunnel or swim-through here, but most of the other large coral heads of this nature are positively percolated with them. Typical marine life includes friendly grouper, barracuda, ocean triggerfish, parrotfish, and schools of Bermuda chub.
At Towers we found the swim-throughs that Great Abaco is so well known for. Nearby was a massive elkhorn colony exceptionally well preserved and photogenic. In a time where so many elkhorn gardens throughout the Caribbean have been devastated by recent hurricanes, it was a special joy to behold such an intact concentration.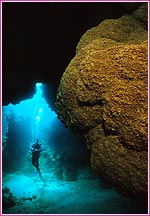 Cathedral is another site notable for its massive central room within the coral complex, complete with delicate sunbeams piercing the reef above and dancing along the seafloor. When the seasonal aggregates of glass minnows clog these swim-throughs, and the grouper and jacks arrive in hordes to prey on the silversides, these sites are truly incredible.
Never were there more than a half-dozen divers on our boats at Dive Abaco, and I must say Keith was the consummate host. He was quick to point out that small groups and high personal service is his ideal, and he certainly delivered. We were never rushed to complete a dive, and when we got back on the boat Keith was every bit as pumped up by what we saw as we were. I wondered at the time whether I could be as excited about diving everyday as Keith Rogers obviously is. Probably not. But he is, and it makes for a very special experience for his guests.

Stephen Frink, www.StephenFrink.com